INDEPENDENT. SUCCESSFUL. SOLD OUT.
Sell tickets online in a few steps.

Have you always wanted to sell tickets for your events independently and on your own website? With our all-in-one event ticketing software it is easier than you think. Sell tickets online with all the advantages – it's up to you!
In a few simple steps you can get your event live and sell tickets for your events. See how easy it is and create your own white label ticket store quickly and individually, with comprehensive functions.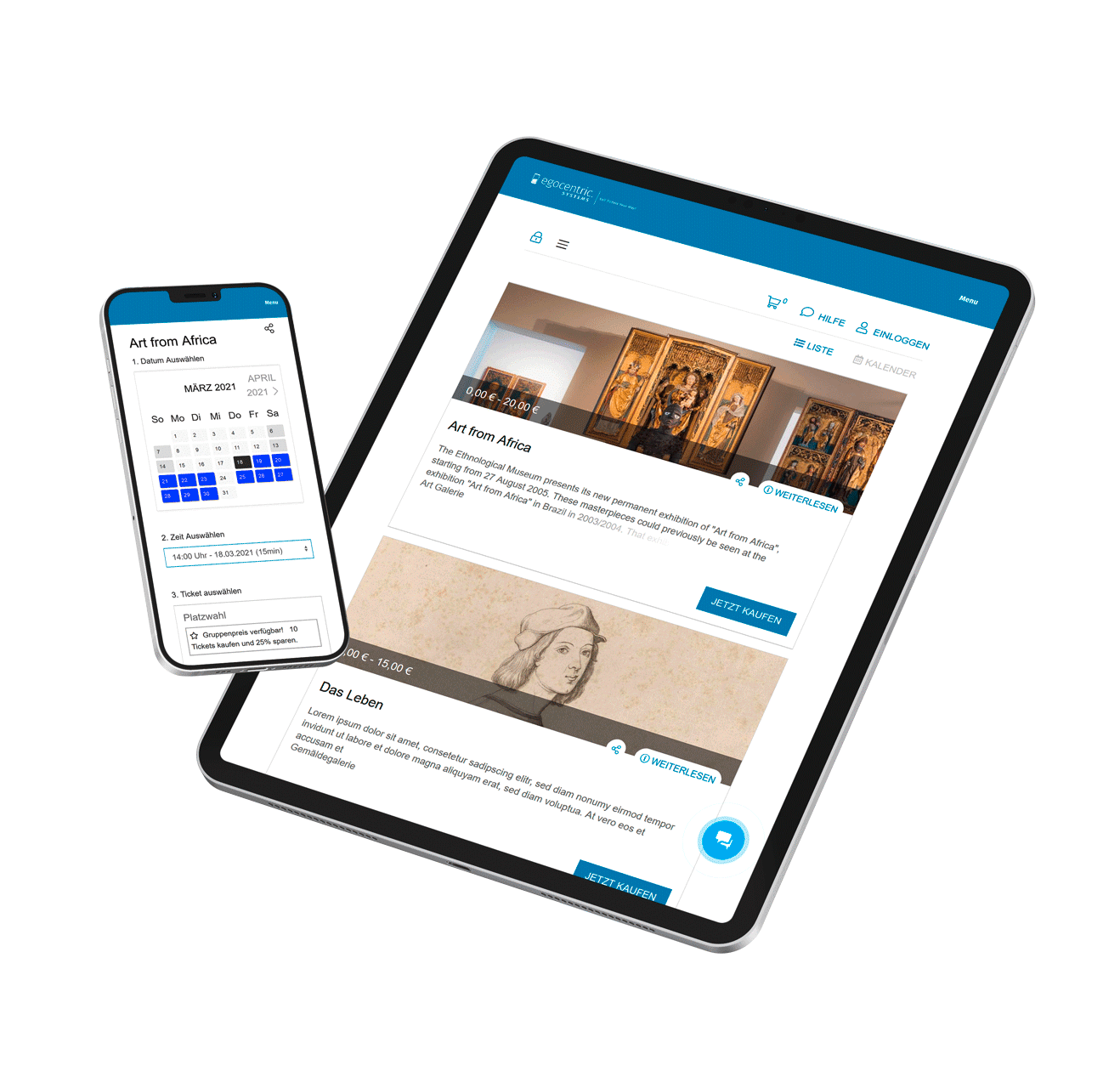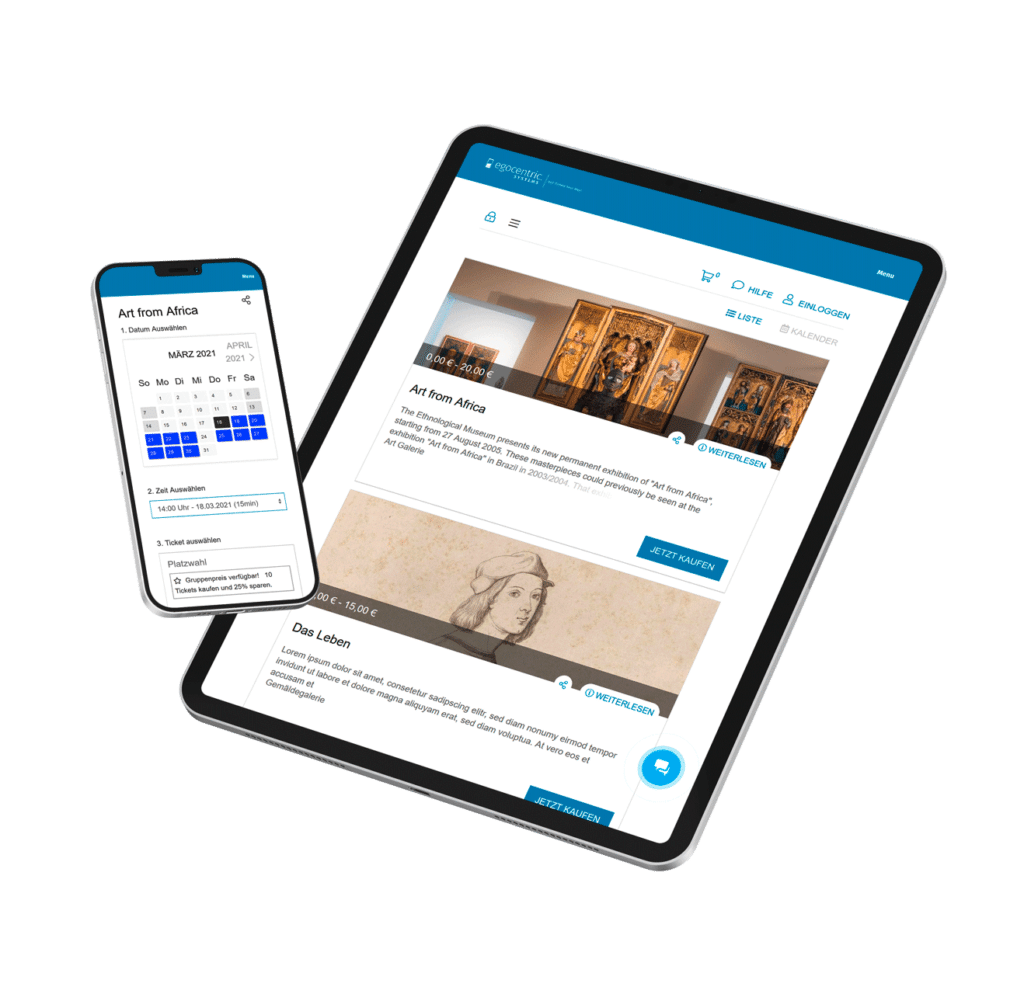 Sell tickets online with your own ticketshop!
Easy to set up. Intuitive management. Optimize immediately.

Ready, Steady, Go! egocentric Systems takes you step by step on a successful journey. Just create a short profile of your company to introduce yourself to customers and to differentiate yourself from competitors.
2. Set up payment methods
With egocentric Systems you can set up all common payment gateways. Your existing merchant accounts can easily be used to sell your tickets.
Create your next event in just a few minutes with the intelligent software from egocentric Systems. With a few simple steps and predefined details or completely individual with user-defined texts and information. There are no limits to your creativity!
Setting up tickets is a breeze. With our system you have a wide range of options at your disposal. Create your tickets according to your wishes. From pre-installed seating plans, to your own venues, to different price structures, there are no limits.
5. Integrate shop

Sell on your website with your own look and feel. With our system you can offer your tickets directly on your own homepage or use the powerful social media plugin to sell your Facebook page. This is how fast and easy you can sell tickets online.
With our innovative marketing tools and the variety of promotion options you can reach new customers in the easiest way. Social sharing, email marketing, banner advertising and cross-selling are just some of the many options available.
With our extensive reporting and analysis information you are always up to date. Whether you're in the office or on the road, the easy-to-read dashboard gives you all the important insights into your event in real time.
8. Communicate & stay in touch
Customer service is a must for every organizer. Keep an eye on your buyers and interact with them using our powerful CRM system. From purchase histories, trends and account maintenance to memberships and mailings, everything is on board.
Your individual shop for online ticket sales is ready!
Are you interested? Then try ours without obligation
innovative software solution for ticket sales.
Learn more about the many advantages of a
inhouse ticketing software.
And why egocentric Systems is the right partner for you!
Keep full control of your fees and receive 100% of all revenues.
With us you only pay a usage fee for our ticketing software.
All of the booking fees are yours!
Strengthen your own brand
Our white label ticket store integrates completely into your website. Your ticket buyers stay on your site and are not forwarded to an external ticket portal.
With our intuitive software, selling your tickets is a breeze. Your ticket sales is quickly set up and easy to use.
With the all-in-one ticketing solution you not only sell tickets but also manage your events. Discover in our solution also functions for collecting donations, selling memberships, comprehensive subscription types and much more.
Our service fees are among the lowest in the ticketing industry. Our fee model leads to a higher acceptance by your ticket buyers and more sales.
Integrated marketing and CRM tools
Increase your reach with our marketing tools. Use comprehensive promotional offers, group sales, mailings or affiliate links to sell more tickets.
We have also recognized the need for mobile accessibility in the ticketing industry. Therefore we are constantly working on perfecting our solution for mobile use.
You are the center of attention
Our system is developed from the ticket buyer's point of view. Further development of the functionalities is based on customer needs and is usually one step ahead of the market. We have made it our mission to be a pioneer in new trends.
Always at your side for successful online ticket sales.
Individual key account manager.
With us you are not just one of many, but our most important customer. We are always there for you and take our time for your requests. Call Center – No way!
Outstanding support.
You will find comprehensive documentation of the respective possibilities on our helppage and our YouTube Channel. If that doesn't help you, our support is available in a competent and friendly manner.
You want sell tickets online?
Be independent now and take it into your own hands to sell out your events.
Test our innovative software solution for ticket sales without obligation.