Sell online tickets for open-air pools.
Bathing season 2022 with visitors
You want to receive visitors in your public swimming pool safely and easily? We offer you a great opportunity with our white label ticket software. Your visitors can register online, buy their ticket and/or book time slots.
→ Easy management of visitor data.
→ Receive more visitors with time slot tickets.
Sell tickets online for your public pool
Simple access control with our system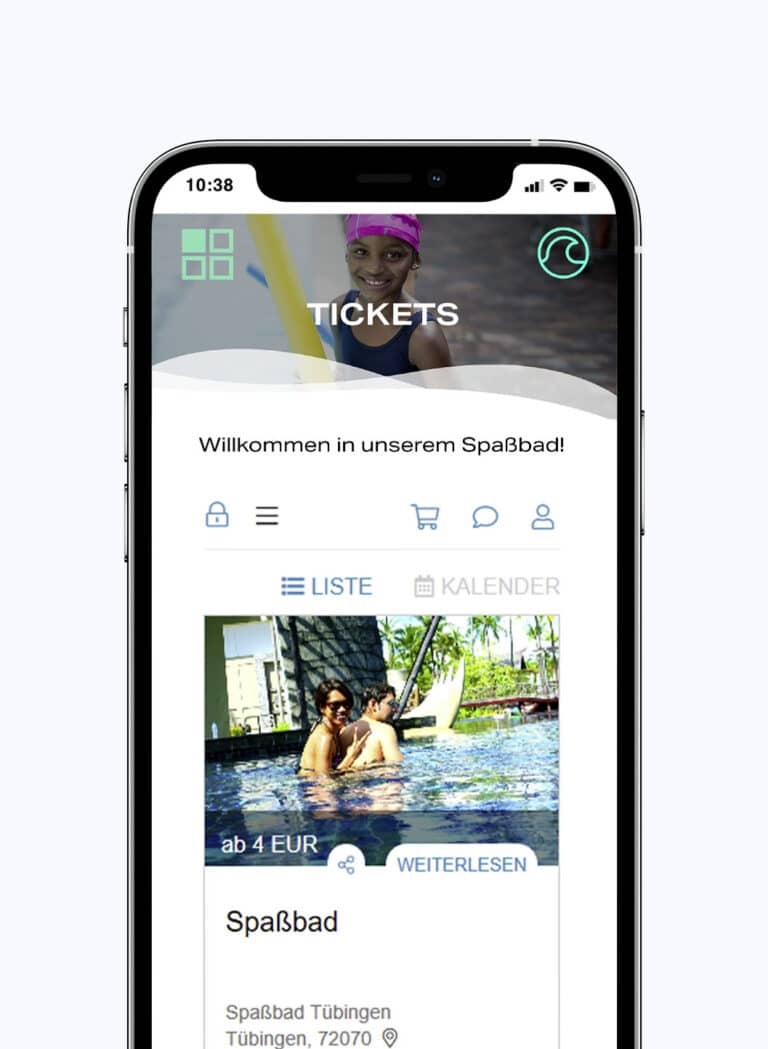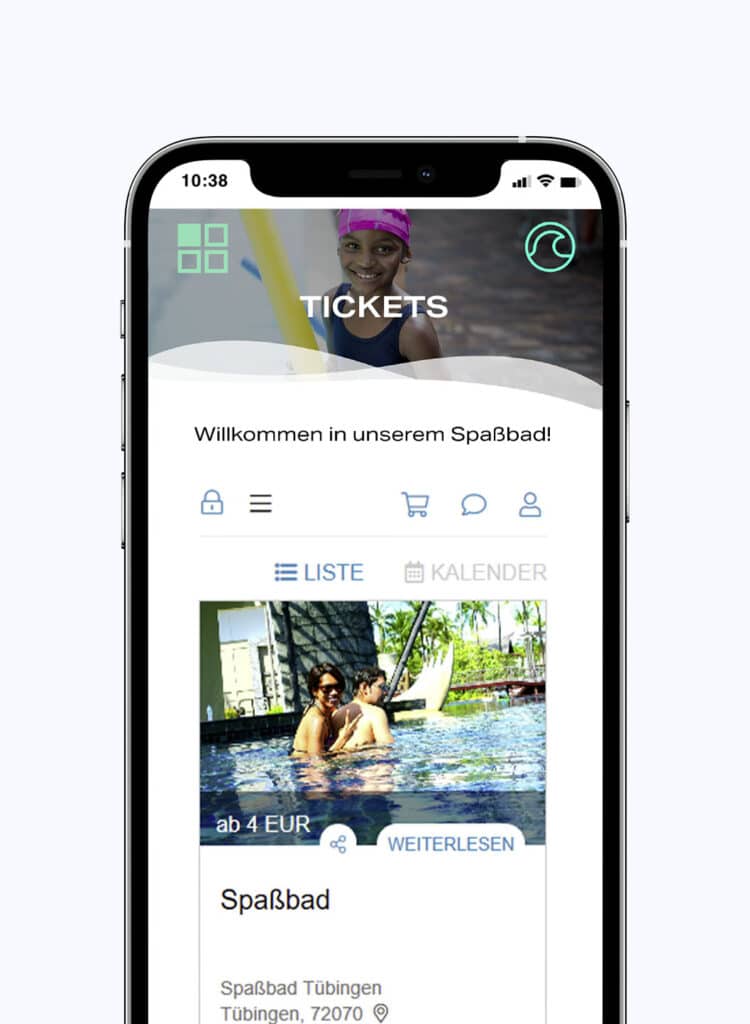 Ticket sales with time slot booking
Your guests can book the desired number of tickets on your website from the comfort of their own home. Our system adapts to your site, the customer buys DIRECTLY from you. Before completion, the guest registers before receiving a digital ticket (QR code) and a printable ticket by email.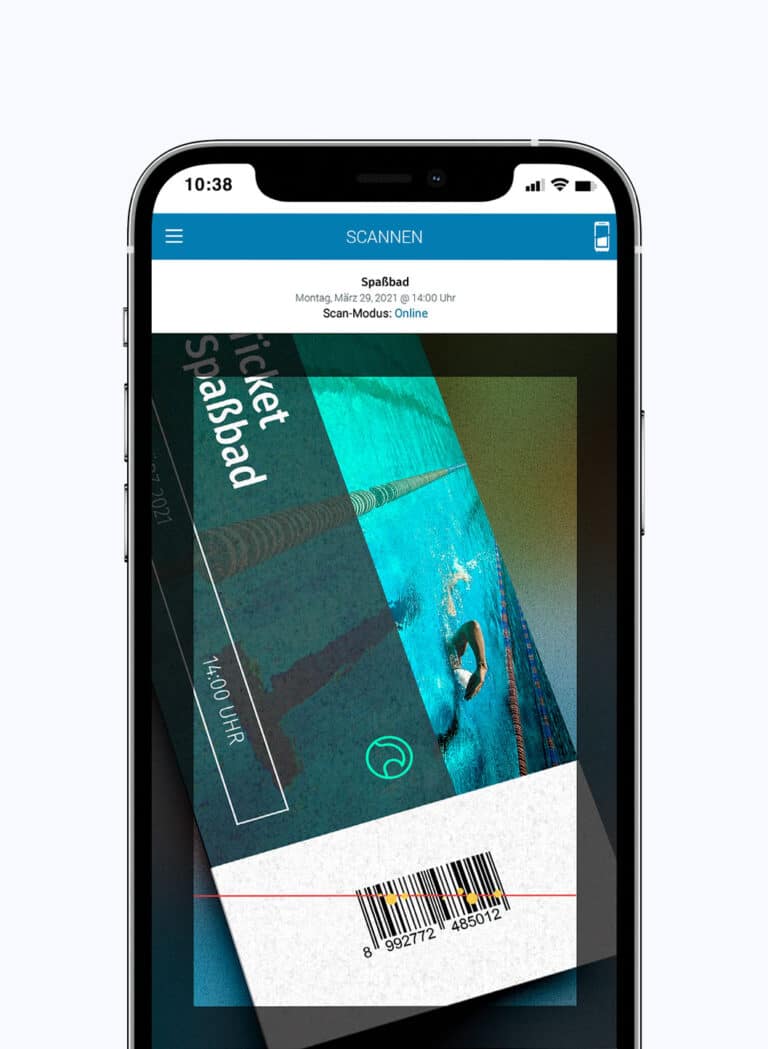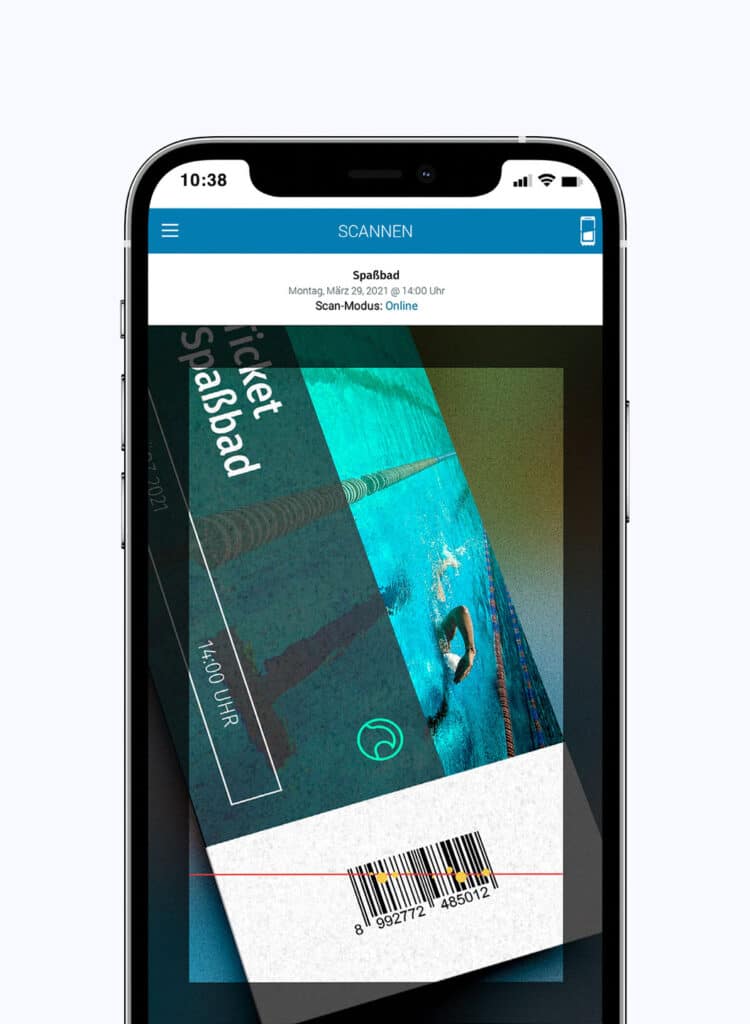 Easy check-in & check-out
No queues await your guests at the entrance; thanks to the scan app, they can check in conveniently without contact. At check-out, the guest scans the ticket again and thus ends the stay. In the event manager you can see at any time how many guests are on the premises and which guests have stayed how long.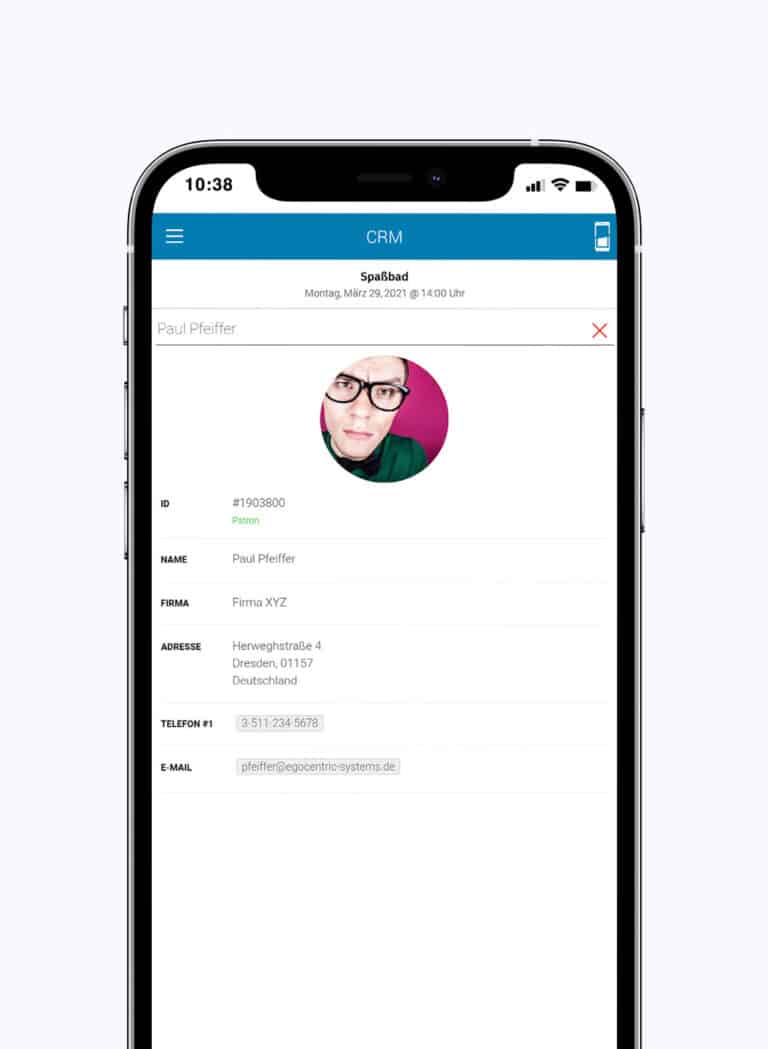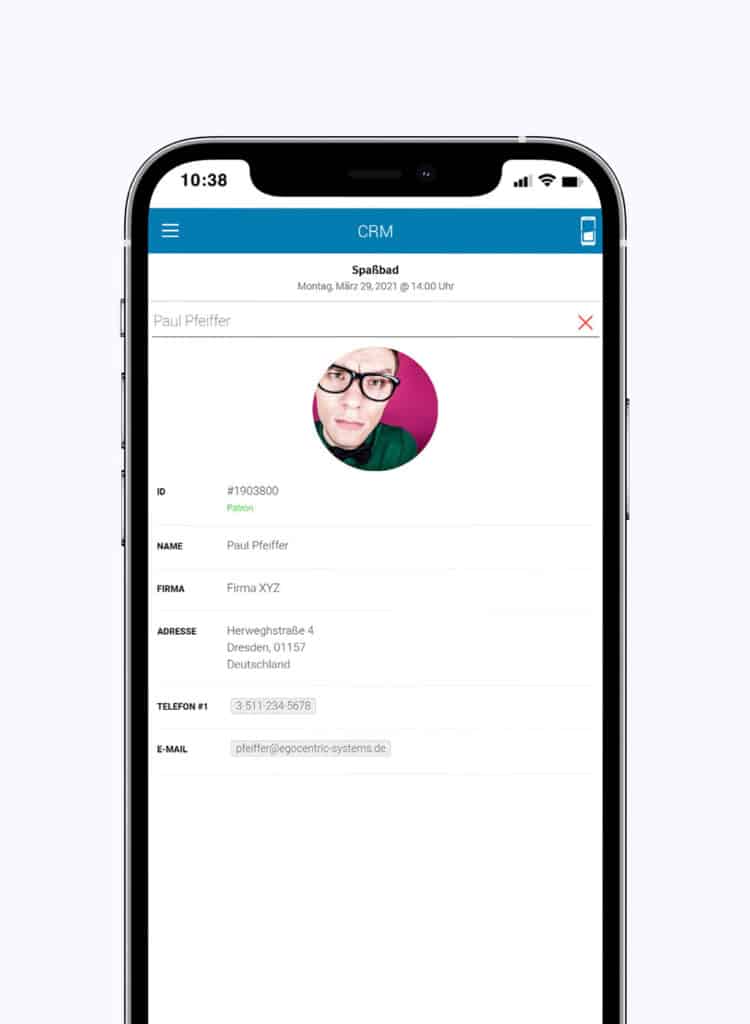 If an emergency occurs
If a Corona case becomes known, you can easily see in the system which guests were present in your public pool at the same time. Thanks to the visitor registration in the booking you have current contact details for each guest and can pass on the information. The data is processed in the system in accordance with data protection regulations.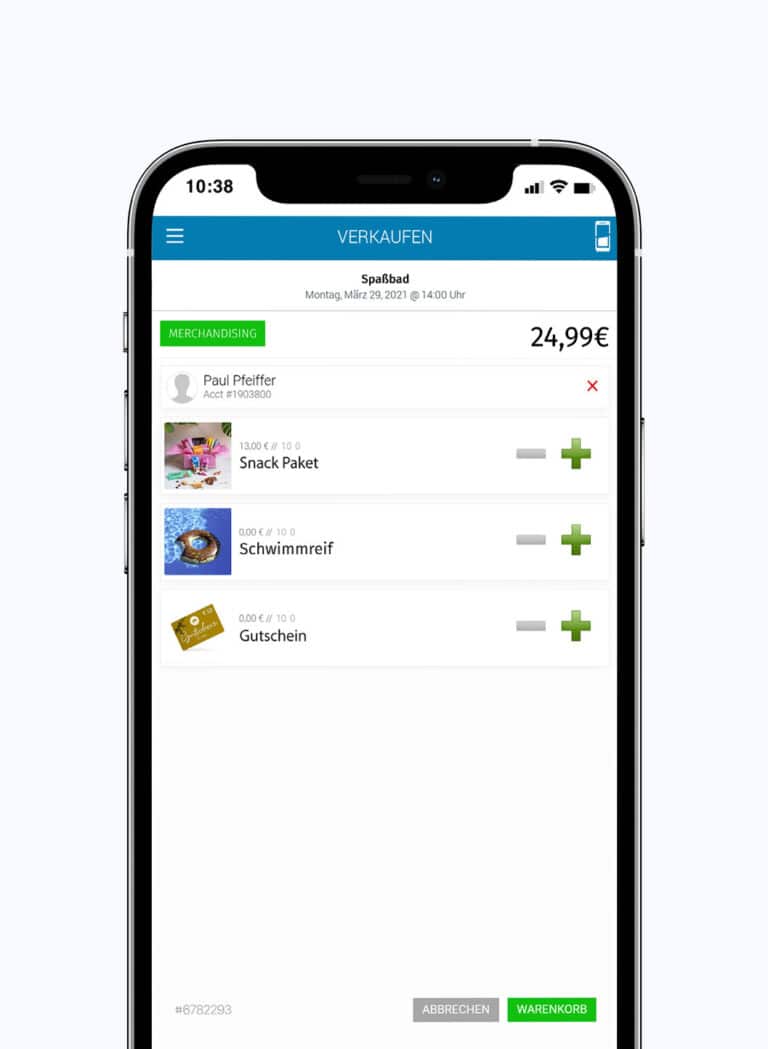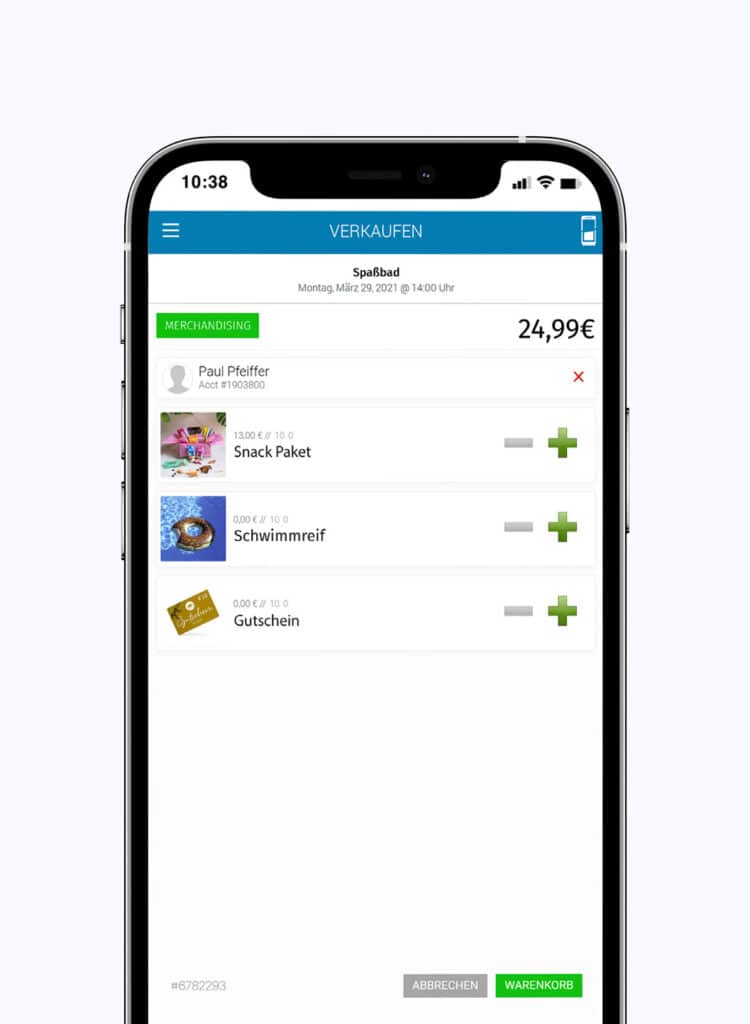 Sell drinks & snacks online
Your visitors can buy swimming utensils, snacks and drinks together with the tickets to their heart's delight. The transaction takes place in one shopping cart and the online sale of products ensures you additional income. The visitor redeems the voucher at the snack bar or store and receives the desired item.
Allow more visitors to enter, sell more tickets
This is what tickets with time slot booking bring you! They facilitate access control and help you to use the capacity of your outdoor pool optimally. You sell not only one day ticket for one visitors place, but depending on the number of time slots 4, 5 or even more tickets. Your profits will increase exponentially.
Sell more tickets for your public pool.
We have adapted our system especially for the new normality and developed functions that allow your public pool a smooth start to the 2021 swimming season.
The ticketing software comes completely white label, allowing you to sell online tickets directly on your website and in your design. With the event manager you have all settings at a glance, can configure tickets with time slots and set up forms for contact tracking.
How does our ticketing system help you?
Discover the creative world of online ticket sales with the White Label Software from egocentric Systems. We will be happy to show you our system in action in a free demo.
Successful cooperation with event organizers is our top priority. We want to strengthen your ticket sales.
Even as a young team, we have been moving in the cosmos of ticketing for a long time. We combine expertise with innovation!
And the number is rising! We are proud of the success of our customers in cooperation with our ticketing system.
What kind of tickets can I sell with your system?

In general, you can sell everything from one-way tickets to group tickets, multi-day tickets or season tickets with our ticket store. Especially for the 2021 bathing season we recommend you the tickets with time slot. These are sold as one-way tickets with the choice of time and duration of stay. For all ticket types you can define staggered prices and entice with special offers.

What time slots are available for the tickets?

In the event manager of egocentric Systems you can define the time slots individually and according to your capacities. The system registers when guests come and go, so that reservations can be made for new slots. This way you use the area of your outdoor pool optimally and can get the maximum out of your ticket sales.

Can I use your software with an existing POS system?

If you already have a cash register system for your public pool, we will check how to implement our system as smoothly as possible. If you want to change your cash register system or don't have one yet, you can simply take over the cash register from our ticketing solution.

What payment methods can I use with your system?

The ticketing software from egocentric Systems supports numerous popular payment gateways (PayPal, Stripe etc), prepayment and purchase on account. You can also set up your own custom payment methods in the Event Manager.

Do you also provide hardware?

We also support your outdoor pool with the necessary equipment. Depending on your needs, you can rent USB scanners (2D QR code scanners) or scanners for counters (Blink scanners from Sunmi) for ticket scanning at the entrance.
You can also use our scan app to scan your tickets at the entrance. All you need is a working smartphone with Android or iOS operating system. You can then download the app free of charge from the Google Play Store or Apple Store.

What happens if I choose you?

If you are convinced of our system after a demo or consultation appointment and the formalities are clarified, the setup and implementation of our software follows. You can already take this into your own hands! For this purpose, we have set up a comprehensive help center, which helps you step-by-step with the settings.
The second option is to use our service. Here we support you with the setup and any adjustments.

Do you use our customer data?

A clear no! egocentric Systems is a provider of ticketing software for events. That means, we provide you with the software, but the data is yours and will not be touched by us. With our white label ticketing system we also give you the software so that the customer can buy from you. Unlike other ticket providers, the customer data is exclusively yours.

You can integrate custom forms and surveys directly into ticket sales. For example, you can ask about food preferences, interests, how the ticket buyer found you, and much more. Decide for yourself whether your query should be a checkbox, a text field or a dropdown list.
Especially interesting for your public pool are forms for registrations or corona queries. These help you to query information given by the health department already in the booking process and make contact tracking easier.

How long have you actually been around?

egocentric Systems has been around since November 2019. The founders come from the event ticketing industry and have a huge wealth of experience in ticketing software, ticket sales and event operations. These come from working at the industry leader and other successful ticketing companies. Well-known customers such as BMW AG, Red Bull Air Race, FSV Zwickau, FC Erzgebirge Aue and the DTM have been successfully supported in the past. This experience has been completely incorporated into the developments of our software for the benefit of our customers.