5 great ways to promote your event online!
Regardless of whether you expect 100, 1,000 or 10,000 guests, there is always a lot of work and passion in a project. No matter whether you are holding a party, a festival, a concert, a congress or a trade fair. For the promoter, this means a lot of effort and that over a very long period of time. Everything should go to the satisfaction of the guests and a great experience should be created. So it would be fatal if you make the best preparations, but nobody knows anything about your event and your ticket sales are not going well.
But we will not leave you out in the rain: Here you will find five great ways to advertise your event online. And all without a large advertising budget and time expenditure!
1. STRENGTHEN YOUR OWN SITE & ESTABLISH IT AS A BRAND.
Your website is your DNA when it comes to presenting your events. Sell your tickets directly via an egocentric Systems Shop plugin and advertise the events via our widgets, which you can easily and easily integrate on your homepage. Widgets automatically show your visitors the upcoming events and lead them directly to the ticket shop with one click. You strengthen your brand instead of directing your customers to external portals, which you also finance with excessive fees. With Google Ads, you can also receive € 75 advertising credit as a newsletter subscriber and spend it on a targeted campaign.
P.S .: You can find out how you can bind your customers more closely to you using newsletter marketing in the blog post "Promote your next event with effective marketing measures
2. GOOGLE MY BUSINESS, YOUR BUSINESS CARD IN THE SEARCH ENGINE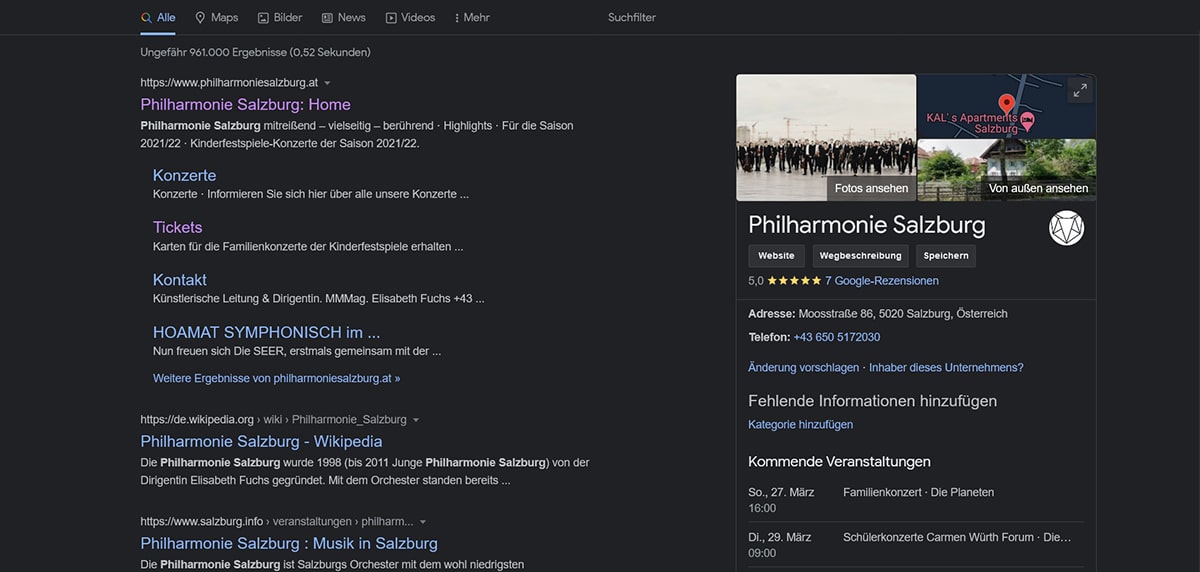 After you have already successfully launched a campaign on Google Ads, only your Google My Business entry is missing from Google. When you search for your company, your events are displayed directly in your company profile. A simple and free advertising platform. Setup time: about 5-10 minutes.
3. USE SOCIAL MEDIA FOR A TARGETED EVENT MARKETING
Advertising events effectively is unthinkable today without social media. Social networks are considered very effective when it comes to quickly sharing information with like-minded people and generating the greatest possible reach and awareness with little effort. Since Facebook and Instagram have belonged together, it has become even easier to distribute campaigns in both networks and to address the right target group. In addition to paid advertising, you should also publish your events in groups if they allow it. So your events spread very quickly and friends of friends see which events they are interested in.
Our tip: Events are shared significantly more often if your fans have an advantage. With egocentric Systems you can give social sharing discounts directly in the shopping cart after a ticket buyer in your shop shares the event on Facebook or via Twitter. Take a look at our video on our Youtube channel and see how easily we have implemented this ingenious function. The best thing about it is that you can individually set your budget for the discounts and later see directly how much sales you have made through social sharing.
4. BUILD YOUR OWN DIGITAL PRE-SALES NETWORK THROUGH COOPERATIONS WITH YOUR PARTNERS AND SPONSORS
The saying "Tickets at all known ticket agencies" is as old as the tear-off card. Years ago, there were long queues days before a sales start, where fans even stayed in front of the sales outlets. These times are long gone. Today the fan sits on a smartphone or PC and conveniently books his ticket online. How do you sell without pre-sale points outside of your website? Quite simply, partners can integrate a complete shop plugin, a widget or a smart button on their website. The shop plug-in can also be integrated into Facebook and thus achieves an even greater reach.
Everyone knows a shop, but what is a widget? Markus answers this question in our video.
5. USE EVENT PORTALS AND EVENTS FOR FREE
Event portals are like sand by the sea. Small, large, local and national. For starters, we limit ourselves to the supraregional ones, because they have the greatest reach. In the following we have selected the most interesting ones where you can advertise your event.
meinestadt.de
In the event calendar of meinestadt.de you publish your event in no time. In addition to the link to ticket sales, you can plan your arrival by bus / train.

eventfinder.de
Whether party, trade fair, theater, musical or sporting event, the nationwide event calendar is the ideal portal for all organizers, agencies and promoters to advertise their events online. In addition to the free version, Basic, Plus and Premium offer extensive opportunities to advertise your event to the maximum.
was-wann-wo.de
More than 230,000 events, shows and locations. From simple and free entry of events to social media sharing to premium service to pay to present your event comprehensively.

openeventnetwork.de
Once registered, your event will be shown in a variety of media houses in the event calendar. Thanks to the large number of its partners, the network reaches more than 50 million visitors a month.

wasgehtapp.de
Over 1 million page views per month on the website and app, lean and mobile layout as well as access via Alexa and Google Assistant are just some of the advantages of wasgehtapp.de import directly in JSON format.
kultur-speicher.de
Kultur-speicher.de offers appointments free of charge, evaluations, advertising free, channel RSS, calendar plugins and much more. The free standard channel already offers many opportunities to make your own event better known. If that's not enough, just book the premium channel.
In addition to the national platforms, always think of the local and regional city magazines, radio and TV stations. Most of them now have websites where event information can be published free of charge.
Finally, a note from our editorial team.
Numbers don't lie!
If you have spent a lot of time or money on online promotion, then you need to know what works and what doesn't. Fortunately, one of the best things about digital marketing is that you can measure your results relatively easily. Where do your ticket sales come from? Are your visitors more likely to be addressed by your Google campaigns, mailings or through the event portals? With the right technology, the answers are simple. Use Google or Facebook pixels directly in the event manager and measure the behavior of your users in the shop. With our affiliate links you can evaluate your sales channels and see where most of the tickets were sold. This ensures that every minute, every euro has been invested wisely.
Get started with us now!
For even more information about the topic of great opportunities to promote your event online, just contact us and get to know us and our software better.